Northeast Wire & Cable Co. Inc.
Transformer Lead Cable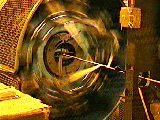 The Northeast Wire & Cable Co. custom fabricates transformer lead cable and wrapped solid conductor wire to meet each customer's specifications in the manufacturing and repairing of all types of transformers. Our construction consists of flexible bare copper conductors wrapped with different types of paper insulations, including a glued outer paper wrap or cotton cover when specified. All materials used are free from substances that could contaminate transformer oils. All wire shipped on wooden returnable reels.